An MBA Is Your Springboard to a Career of Social Impact
An MBA Is Your Springboard to a Career of Social Impact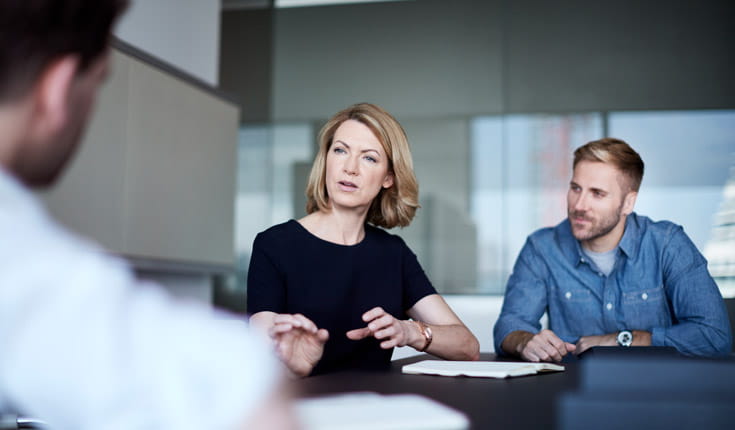 Though you may just be beginning to figure out what you want to do with your life and career after earning your bachelor's degree, you and the rest of Gen Z are already developing a reputation as the "change generation" because of your passion and interest in careers with social impact.
More so than past generations, Gen Z—people like you born after 1996—want to feel as though you're making a positive difference in the world through your work.
"[Gen Z] doesn't see the same artificial dichotomy between their personal and work lives as past generations," says Geoff Kistruck, Director of the Social Sector Management Program at the Schulich School of Business, York University. "It's not like they think they should be good human citizens on one hand and then go to work on the other hand…they see having an impact not just as a form of ethical compulsion, but also as a way of fulfilling passion."
The question is: how can you find a career path that taps into your passion for making the world a better place? Earning an MBA is strong choice for opening avenues to career options in social impact that you may not have realized exist.
How can an MBA lead to social impact career opportunities?
In recent years, there's been a boom in career opportunities for business-savvy, socially conscious professionals who can problem solve and understand how to demonstrate impact.
"Whether you're a non-profit organization that is trying to make the world a better place, or you're a corporation practicing social responsibility, you can no longer survive on anecdotal evidence, and that's a big shift," explains York's Kistruck. "This has spawned an entire new field related to accounting, strategy, and measurement methods and all these kinds of things MBAs get skilled in as a part of their traditional training that has really been this point of intersection that has created a whole lot of career options."
Roles in fields like corporate social responsibility (CSR), impact investing, cause marketing, fundraising, and more are increasingly common, and the skills MBA graduates bring to the table make them top targets for hiring managers.
"The MBA student that understands the language and tools of business which are necessary to talk to all the players in the social sector are all of a sudden desperately needed in this world that is mostly about the social," says York's Kistruck. "It's a supply and demand mix which has come together wonderfully here, where there are unique skills that MBAs have and a desire or passion on their part to engage in some of those activities."
Social change today is often led by business
Increasingly, if your career goal is to have a social impact, working at a major corporation may actually be your best bet to do that. A number of recent key social change movements have been aided significantly by the support of large corporations with significant clout and ability to influence others, including environmental reform, the Black Lives Matter movement, and the recent decision to change the name of the Washington, DC NFL football team.
"Legislation is usually lagging and seldom a real proactive driver of change," explains Copenhagen Business School's Andreas Rasche. "Some large companies have certainly spearheaded the sustainability movement. Unilever, for instance, has taken bold steps early on."
Unilever, a British-Dutch multinational consumer good company, is a prime example of a corporation that's made high ethical standards and sustainability a core part of its operations, mission, and image. Their brand portfolio includes several Certified B Corps, including Ben & Jerry's, Seventh Generation, and Sir Kensington's. Shorthand for Benefit Corporation, B Corp certification is awarded to businesses that meet the highest standards of verified social and environmental performance, public transparency, and legal accountability to balance profit and purpose.
"Unilever doesn't look at engaging in social causes as some kind of ethical responsibility or some kind of way of generating brand awareness—it is integral to their strategy," says York's Kistruck. "I find that a lot of MBAs are attracted to corporations that are doing that."
Increasingly, corporate social responsibility has gone mainstream. In a watershed moment, the Business Roundtable, an association of CEOs of many leading US companies, made headlines when it formally changed the definition of a corporation, proposing that a company has a broader responsibility to society and ought to consider all stakeholders in its business decisions.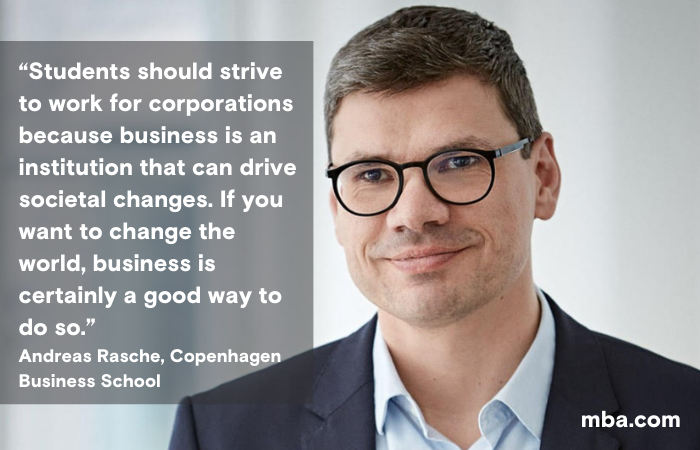 "The Roundtable statement was an important step…it sent a strong signal to students, employees, investors, and other stakeholders that discussions about corporate sustainability and responsibility have moved to the core of the corporation," says Copenhagen's Andreas Rasche. "Discussing 'corporate purpose' means that you move to the core of the corporation, and this means that the debate has shifted; sustainability and responsibility are no longer perceived as an add-on. Students should strive to work for corporations because business is an institution that can drive societal changes. If you want to change the world, business is certainly a good way to do so. Business has enormous reach."
Take the first step toward your social impact career with an MBA
Are you ready to take your first steps toward your MBA and a social impact career? The best way to get started is to develop a crystal-clear understanding of why you want to earn an MBA and why now is the right time.
Our free guide, How to Get Started: Your First Steps to a Full-Time MBA, provides you with step-by-step, expert guidance on how to position your personal brand in your applications to ensure you tell an authentic and compelling narrative that differentiates you from other qualified applicants and sticks in the minds of the admissions committees.