COVID-19, the Next Admissions Cycle, and Why You Should Think About Applying Now
COVID-19, the Next Admissions Cycle, and Why You Should Think About Applying Now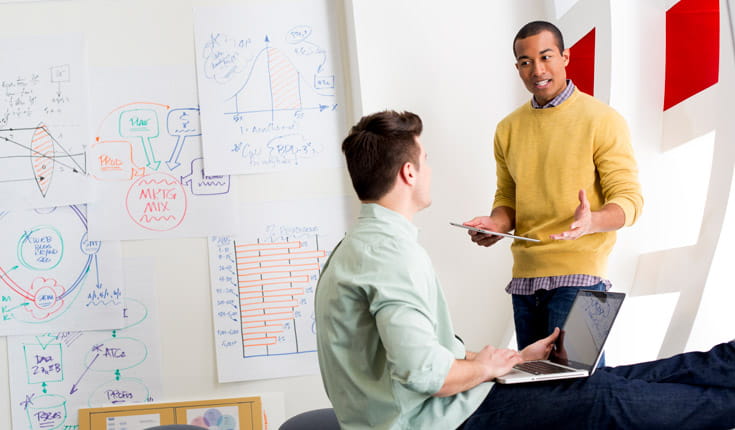 A countercyclical jump in applications and a higher-than-usual number of deferrals could lead to a more competitive admissions cycle for 2021 entry.
It's no secret that COVID-19 has turned our world upside down. While business schools are working around the clock to maintain as much normalcy as possible, the current admissions cycle for fall 2020 entry and the cycles that will follow are shaping up to be far from ordinary.
In an effort to help MBA hopefuls determine how to best manage this unique time, here are my observations and perspectives on what's changed in the current cycle, my predictions for the next cycle, and the implications for anyone considering an MBA now or in future years.
Application deadlines are being extended well into spring/summer 2020
For MBA hopefuls contemplating their future educational plans, the timing and cycles look different this year. Normally, in May, discussions with traditional full-time MBA candidates would be focused on developing applications to submit this coming fall (to enter a program in fall 2021). This year, however, there are still seats available for this fall's entering class and deadlines have been extended to reflect this. For multiple schools, 100 percent of applicants I work with who submitted recently have been invited to interview.
This means if you are in a position to start your studies this fall, applying during Round 3 or Round 4 could be a great opportunity. While time is tight, this may still be a strong option for motivated candidates, particularly as some schools will allow later submission of GMAT™ exam scores (June 15, July 1 or in some instances anytime in the summer).
For the latest updates from schools, visit the mba.com COVID-19 Program Updates page!
While I recognize that many MBA applicants are concerned about the possibility that some classes could begin online, this may be a worthwhile trade-off compared to working another year in this uncertain economy or facing lower admission statistics this fall or winter. Plus, keep in mind that many of the best and brightest minds are working to maximize virtual learning.
There is a strong chance MBA application volumes will increase this fall
Findings from the Graduate Management Admission Council™ (GMAC™) Application Trends Survey show that application volumes to US full-time MBA programs have been down for the last five years in a row. Though increased competition from international programs and less favorable immigration policies are partially to blame, the number of MBA applications historically decrease during strong economic times (and vice versa).
Today, given skyrocketing unemployment, young (and not so young) professionals will likely decide that it is time to further their education. The cost of leaving the workforce has declined and candidates are seeing a growing need to increase their marketability.
More seats will be taken up by deferral candidates, too
Harvard Business School (HBS) recently made a big decision—offering all MBA candidates scheduled to start class this September the option to defer for one or two years. It remains to be seen how other top programs will respond to this news (some schools have mentioned that deferrals will only be offered to those who cannot obtain a visa to come to campus but most have not made a final decision on deferral policies). I expect an increased level of deferrals over previous years, however, even if only amongst international students.
As HBS students expected to enroll this fall defer, an increasing number of currently waitlisted students will be offered a seat for fall 2020 entry. This will likely create a trickle-down effect, opening up additional spots (and driving programs to extend their application deadlines as discussed earlier).
So, what do all of these changes mean for MBA hopefuls?
Candidates should expect a challenging 2020-2021 admissions cycle, but it's nothing a little extra prep can't compensate for. Here are five key tips to help guide your application process:
1. Use this extra time at home to beef up your profile. With fewer hours spent commuting, traveling, and socializing, most applicants find themselves with lots of extra free time. Take an honest assessment of your weaknesses and look for unique opportunities to compensate. Pursuing meaningful (to you!) online volunteer work or taking extra classes are just a couple of ways to set yourself apart this fall.
2. Consider expanding your school lists. Generally, I advise clients to apply to at least five programs of varying competitiveness. Applying to a wide range of schools will be even more crucial and I would not be surprised if hopefuls apply to six to eight schools this season. Similarly, candidates should choose a wide range of programs. Given the increasing competitiveness of programs outside of the M7 or T10, there are many strong options to consider.
3. Continue to court target schools. While social distancing eliminates the possibility of campus visits, admissions representatives continue to look for options to connect with potential students. Virtual conferences and online webinars are becoming the norm, and admissions representatives who are not traveling have time to attend more events than in previous years. Stay up to date with all that your target schools have to offer and use these events to your advantage.
Here are eight tips to help you make an impression at a virtual MBA event.
4. Pay special attention to your personal story. It is no surprise that admissions committee representatives look for well-rounded candidates. Your personal story will show admissions representatives what you will add to the classroom. During particularly competitive cycles, setting yourself apart is even more crucial. As you develop your application, focus on what makes you unique!
5. Maximize your GMAT exam score. While test scores are just one piece of the puzzle and the limits of online testing pose some challenges, look critically at your scores. Did you really study as much as possible? Did you hire a tutor? If you have not truly maximized your potential, beef up your study plans.
My Schools and Story Guide
Get expert advice to evaluate and determine your best fit business school.