What Are Corporate Recruiters Looking for in an MBA Hire?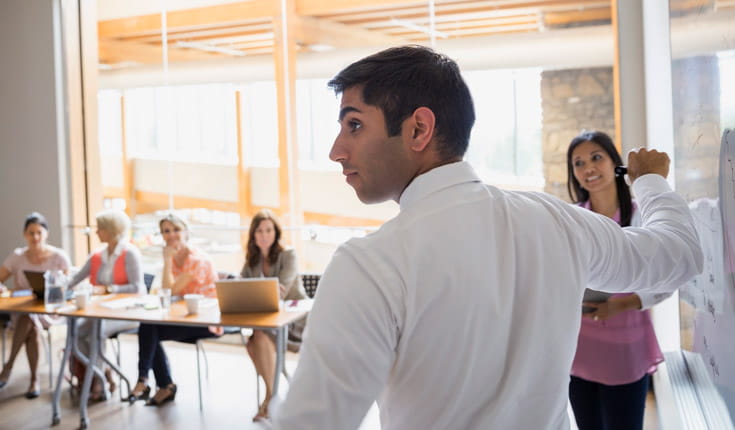 According to the GMAC® 2017 Corporate Recruiters Survey, 86% plan to hire recent MBA graduates.
Earning a management degree is a US corporate rite of passage, and the MBA is, now more than ever, a way for candidates to realize their potential and graduate to the next level. We also see this is happening in other countries. For example, the CEO of Japanese online retailer, Rakuten (Harvard Business School), the chairman of Indian IT services giant Infosys (IIM-Ahmedabad) and the Executive VP for Innovation at L'Oreal (INSEAD), all hold advanced business degrees.
It's clear that acquiring a graduate management education is the stepping stone to getting that dream job. According to the GMAC® 2017 Corporate Recruiters Survey (with responses from 959 global companies) 86% plan to hire recent MBA graduates in 2017 compared with 79 percent of employers who hired them in 2016. And, these companies will employ new MBA hires in a range of job functions.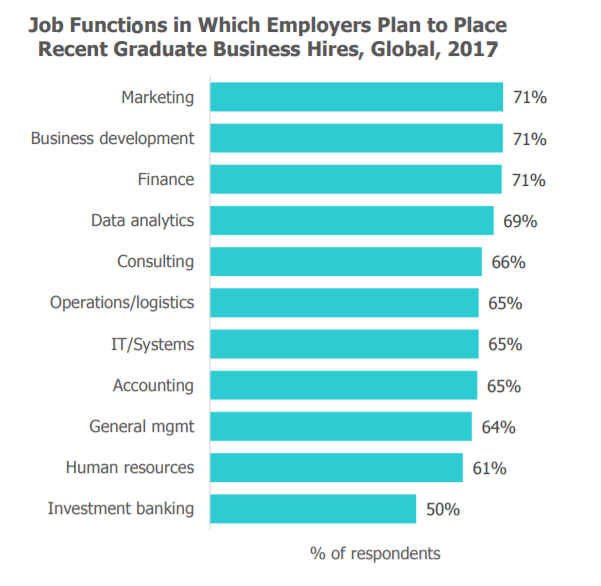 Source: GMAC (2017) Corporate Recruiters Survey Report.
What Are Employers Looking For? Communication Skills
But what are employers looking for when they want to hire an MBA out of business school? The ability to present to senior leadership? Implement the marketing mix? Construct a GAANT chart? Value an asset? No doubt, all these skills are helpful, but employers ranked communication skills as most important, followed by teamwork, technical skills, leadership skills, and managerial skills. There are some regional variations:
United States and Asia Pacific: Communication and teamwork ranked most important.
Europe: Teamwork was rated most important, followed by communication and technical skills.
Latin America: Leadership, technical skills, and teamwork are top-ranked.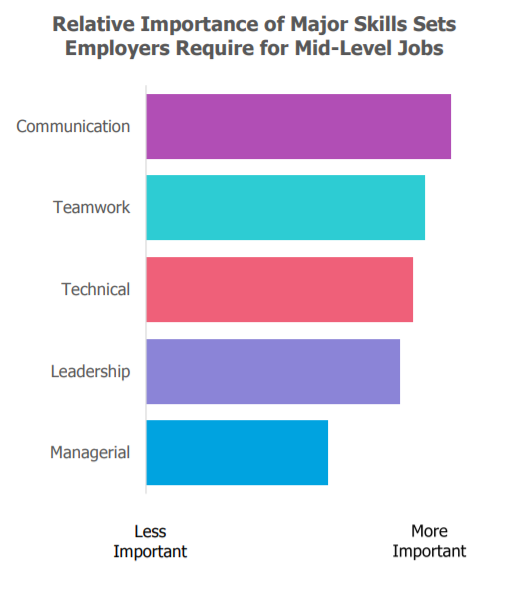 Source: GMAC (2017), Corporate Recruiters Survey Report.
Below, senior recruiters at some of the world's best-known multinational companies tell us what they look for in their MBA hires.
Samsung—Electronics
Recruiter: Lorenza Salerno
Types of roles for MBAs: marketing, market intelligence, and finance at various levels
Lorenza says: "Just because we're a technology company doesn't mean we only hire scientists. We definitely need people with MBAs. When Samsung looks for MBAs, it's usually for candidates who have experience at leading global companies like Unilever, IBM or Procter & Gamble. Samsung is looking for people who not only have a solid academic background but also good business experience which they can share with the company."
Expedia—eCommerce
Recruiter: Margaret Buj
Types of roles for MBAs: marketing and merchandising roles at director and senior manager level
Margaret says: "Ideally when we hire MBAs, we want someone who has great analytical skills and a broad education. We look for people with at least four to five years' experience; we rarely hire an MBA graduate who's got less than three years' experience. Having an MBA and the right skills gives you an edge on the other candidates. Someone with over five years' experience in consulting or e-commerce and an MBA from a respectable business school would be a very attractive candidate."
WPP—Advertising
Recruiter: Trish Sorrell
Types of roles for MBAs: The WPP MBA Fellowship Program
Trish says: "There is a misconception that one needs to write copy or art direct or they are not suited for our businesses, but WPP is fortunate to have a wide array of businesses that serve many skills and talents. The one common factor must be that people have a commitment to serving clients and a passion for creative work. The industry isn't one that discriminates against background; if an MBA can demonstrate creative or analytical talent in their work then they'll get noticed."
Citi—Finance
Recruiter: Adam Walker
Types of roles for MBAs: investment banking, corporate finance, research, strategy, and operations at associate level and above
Adam says: "MBAs working at Citigroup tend to have particularly strong accounting knowledge coupled with great communication skills. Candidates must be able to handle the pressure that comes with banking, whilst being able to communicate effectively with clients and colleagues. We like to hear MBA referrals from our current Citi employees, as these candidates tend to be of high quality and are often a close fit for our needs."