COVID-19: When's the Right Time to Apply to Business School?
COVID-19: When's the Right Time to Apply to Business School?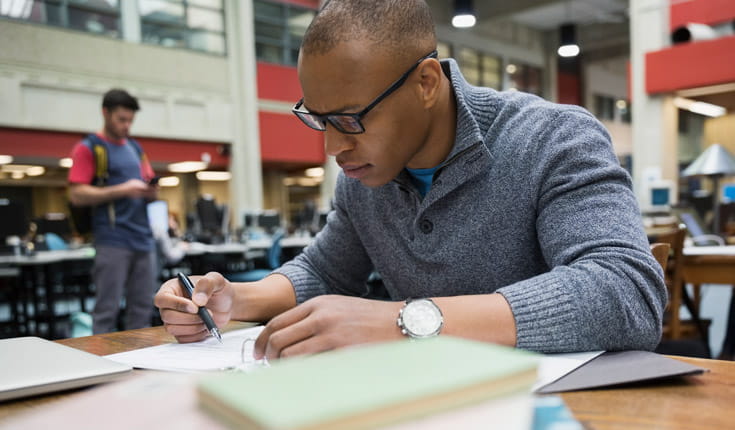 How quickly things change. It seems like just yesterday when news headlines were dominated by stock market highs and global tariffs. Since then, it's been nothing but COVID-19, unemployment, and… Tiger King. As an business school admissions advisor, I've been working hard to help my clients adjust to the GMAT Online exam, virtual interviews, Visa issues, and round 4 options (can I get a round 5?). A top question I'm getting is: how do I know it's the right time to apply to business school? These are certainly chaotic times, but that doesn't mean that candidates need to operate in the dark and make rash decisions when it comes to tackling the admission process.
So… how do you know when it's the right time to apply to business school? Keep these five principles in mind to avoid corona chaos as you think about business school and COVID-19.
1. Maintain a long-term view
In the midst of chaos, people often make irrational short-term decisions that seem to make sense in the moment but don't fully account for long-term goals. During these times you need to keep your head above the clouds and your eyes on the future. A graduate business degree is a long-term investment in yourself. Just like a great stock, you will have ups and downs in your career, but if you believe in your talents and you're willing to put in the work, your stock will continue rising if you continue investing in yourself.
Alex Lawrence, Assistant Dean and Director of MBA Admissions and Financial Aid at UCLA Anderson School of Management shed light on this principle: "Troubled times don't last. MBA students from the last crisis have gone on to thrive post-MBA. People with tangible business and leadership skills from an MBA are going to be successful regardless of future economic challenges."
Read more on the value of the MBA in the article "Why an MBA Is a Smart Choice for an Uncertain Future"
Is now the right time to apply to business school? For many, this may be an ideal time to be away from the job market. During this period of uncertainty, it's a great time to re-invest in yourself to build your skills, network, and credentials for a better future. The truth is, it's never a bad time to invest in yourself. A survey of more than 10,000 business school alumni spanning back decades found that consistently by graduation year more than 9 in 10 alumni rate the overall value of business school as good to outstanding and say they would pursue their degree again knowing everything they know now.
Takeaway: Don't let short-term circumstances drive long-term decisions
2. Go for the right reasons at the right time
I usually get two to three clients a year that come to me late in the application cycle asking about round 3 (R3). In some cases, it is a good fit, but in most cases, the client's interest has been piqued by a clever marketing email or article touting R3. Overwhelmingly, we decide that R3 is not the right fit and focus instead on the upcoming application season. This year, I've had more R3 (and round 4) applicants than I've had in 13 years as an admissions advisor. Some of these applicants were prepared to apply, but many of them rushed their applications and were driven by several external factors:
Communications from schools inviting candidates to apply in round ¾
Buzz about how R3 is a great time to apply (comparatively, yes; still not a "great" time to apply)
Deadline extensions
Overall job market weakness prompting candidates to test the business school admissions waters
In some cases, R3 and the pending rolling admissions for some schools may be a good fit, but certainly not for everyone. The key to navigating the chaos is to have a clear true north. A graduate business degree can have a very strong return on investment, but you should only apply when you are mature, clear about what you want to get out of your experience, and ready to make the sacrifice to invest in yourself. This decision to apply shouldn't be casual or extemporaneous. Instead, carefully consider timing, goals, and programmatic fit. You will get the most out of your business school experience when you thoughtfully reflect on what you're looking to get out of the experience and the types of schools that can deliver that. While external factors can certainly have an influence on timing, don't let the tail wag the dog here: make sure you're going for the right reasons at the right time.
Takeaway: Go when you're ready, not when the chatroom tells you!
3. Stay disciplined and ignore the noise
Opinions are like… noses. Everyone has one and most of them smell. Everyone from mom to office colleagues and highly opinionated people on random graduate school forums seem to know what's best for you (especially now, amid a crisis). Don't listen—no one knows you more than you. If you want to really figure this thing out, you need to take a methodical, measured approach.
Start thinking about your ROI. What is your projected return (numerator) for your investment in graduate business school (denominator)? The investment part is relatively simple: look at the cost of school combined with your opportunity cost (what money/time you're losing by going to school). Return on your investment is the harder part: think about where you want to be in your career and determine if you need a graduate business school degree or if it can help you get there faster. Take a look at people who are where you want to be and see what their backgrounds are. Talk to business school alumni and figure out what they got out of the experience and beyond.
Once you've determined it's right for you, the next step is timing. Is now the right time for you to apply to business school? Is the timing right for your career? Do you have the requisite experience to be a competitive candidate at the schools your targeting? Take a look at the school websites to get a feel for the class "average" by looking at class profiles. If you think you're generally in the ballpark for work experience and GMAT exam scores, you may be right on track. If graduate school was a good ROI before coronavirus, it's probably still a good option for you. Don't overthink it. Ignore the noise and keep your eyes on the prize.
Takeaway: Let everyone else play checkers; you play chess.
4. Focus on execution
Once you've decided to move forward with pursuing a graduate business degree, you need to take action to make sure you do it right the first time. One of the first steps is to determine the strengths and weaknesses of your profile. Consider working with an AIGAC or IECA-registered admissions coach and don't be afraid to get candid feedback; you would much rather know where you stand now than find out the hard way later. Conversely, you don't want to seek feedback from too many people, which can undermine the entire process. Look for one or two quality perspectives and keep moving.
Once you've figured out where you stand, you must move forward aggressively. This upcoming application season is likely going to be more competitive than in recent history because of the general market disruption from coronavirus. Applicant numbers will likely be up due to the weakening economy, layoffs, and economic uncertainty. Specifically, there is an expectation that round 2 applications will rise meaningfully this year.
Is now the right time for you to apply to business school? More competition shouldn't scare you off, but it underscores the importance of making your applications count! Spend time reflecting on who you are, what you bring to the table, and what you expect to get out of your business school experience. Do what you can to optimize your GMAT exam score and your application, including staying connected with schools, doing your research, and staying ahead of the deadlines.
The GMAT exam is now available online! Here are the six things you need to know
Takeaway: Once you've made a decision, make the process count.
5. Be authentic
Having done graduate admissions coaching for over a decade, I've found the most important buzzword from admissions staff over the years is authenticity—and for good reason. Schools truly want to know who you are and what you'll bring to their classrooms. They want to hear about the experiences and perspectives that have shaped you as they consider your potential as a future business leader. They don't want you to tell them an artificial story about who you think they want you to be.
In a COVID-19 world, this principle of authenticity will be even more important. There will be a lot of GME applicants that are just applying to graduate school to escape a challenging economy with no true sense of purpose. Admissions committees are adept at filtering out the nonsense and will call fraud if they feel you are in that camp. With their choice of applicants, they will be looking for a diverse class of matriculants that truly want to be in graduate school for the right reasons and are ready to make an impact.
Read more in the article "Developing a Successful MBA Story"
Danielle Richie, Senior Associate Director of MBA Admissions & Student Recruitment at UNC Kenan-Flagler Business School, talks about the importance of authenticity: "As a smaller top 20 program, we're looking for ambitious principled leaders without the ego. We seek applicants who can drive the bottom line and the greater good; we search for those traits demonstrated throughout the application process in an authentic way."
Authenticity starts with who you are. What are your true character traits that make you a potential business leader? Are those traits backed by specific stories in your personal, professional, and community experiences that you and your recommenders can speak to in your application? Do you have a clear vision for your career and how a graduate business degree can help you? If you can answer these questions effectively, you are well on your way to delivering an authentic application that will resonate with admissions committees.
Takeaway:Want to know what schools are looking for? Authenticity.
Is now the right time to apply to business school?
Take these steps to help you make a sound, rational decision:
Determine your ROI for graduate business school. Start with a piece of paper and split it in half with the benefits and the costs. Does it make sense?
Determine the right time to apply. If you're waiting for external factors, try to make a call by July 1st. Set that date on your calendar.
Sometimes less is more. Drown out the uninformed noise and stay tuned in with schools and professional advisors.
Stay on task. Come up with a schedule for executing in this application phase.
Is now your moment to apply to business school? Create an mba.com account to begin your journey.
Eric Allen is the President and Founder of Admit Advantage, one of the leading admissions consulting companies and Admit.me, a free online graduate management education admissions resource. He earned an MBA from the Wharton School at the University of Pennsylvania and worked on the admissions staff at the University of Pennsylvania. Eric is a member of AIGAC and IECA and has personally worked with thousands of clients over his 13 years working in the admissions advising space.