Employer Demand for B-School Talent on the Rise in 2016
Employer Demand for B-School Talent on the Rise in 2016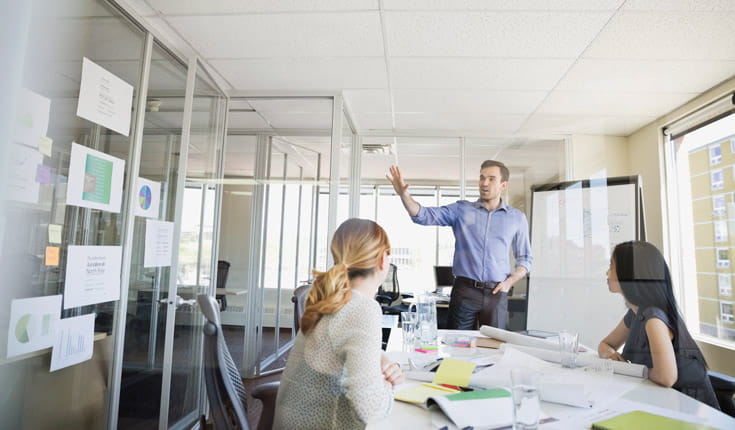 Discover why employers recognize the value of your graduate business degree.
In deciding whether or not to attend graduate business school, an important question you may ask is, "Will employers recognize the value of my degree?" According to recent GMAC research, current business school students looking for internships or post-graduation employment opportunities should find that the answer is a clear "Yes."
The findings from GMAC's annual Year-End Poll of Employers reveal that nearly all employers (96%) say that hiring recent business school graduates "creates value for their companies," and more companies plan to hire and offer internship opportunities to b-school talent in 2016 compared with 2015.
The poll, which features responses from 179 recruiters from more than 159 companies of varying sizes and industry sectors, found that a majority of responding companies (57%) are planning to expand in the coming year, and more than 2 in 3 (69%) agree that hiring MBA and specialized business master's graduates is a priority in their companies' 2016 hiring plans.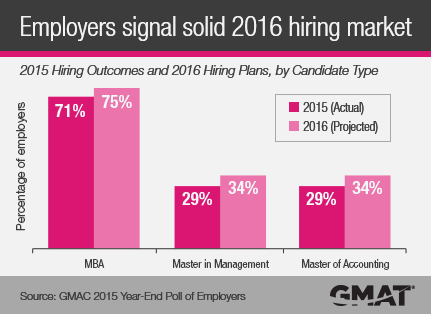 Hiring Projected to Increase in 2016
The share of companies hiring business school graduates is projected to increase in 2016 compared with 2015 across all candidate types included in the survey analysis—MBA, Master of Accounting, and Master in Management.
Three in four employers (75%) expect to hire MBA graduates in 2016, compared with 71 percent of the same companies that hired MBA candidates last year. Among companies planning to hire MBAs in 2016, 85 percent plan to hire as many or more of them than they did in 2015.
Although an overall smaller share of employers plan to hire Master of Accounting and Master in Management candidates in 2016 (34% each), the vast majority among those with plans to hire them (85%) will maintain or exceed their 2015 hiring count.
Internship Opportunities Up for MBA Candidates
Among surveyed companies that have an internship program, 73 percent of them offer internships to MBA candidates. Among companies that currently offer MBA internships, the vast majority (92%) plan to maintain or increase their number of MBA internship openings in 2016.
Expanded internship opportunities for MBA candidates in 2016 will likely lead to improved job search outcomes for them down the road. Among job-seeking class of 2015 MBA graduates, 39 percent used their internship as a launching pad for their job search, yielding a full-time job offer 50 percent of the time. This made it the most successful job search method analyzed in the survey.[1] Additionally, 53 percent of companies surveyed last spring said they hired more than half of their MBA interns to full-time positions.[2]
Are you ready to realize the marketplace benefits of attending graduate business school? Begin exploring what business schools have to offer by using GMAC's Program Finder tool.
---
[1] GMAC (2015) Global Management Education Graduate Survey.
[2] GMAC (2015) Corporate Recruiters Survey.